Genetic Testing for Macular Degeneration

According to The Eye Digest, published by the University of Illinois Eye and Ear Infirmary
* If you have a first degree relative who has macular degeneration, then your likelihood of developing macular degeneration is about 2.5 times greater than someone who does not have a relative with macular degeneration (Am J Ophthalmol 1997;123:199-206).
* People who have first-degree relatives with late-stage macular degeneration develop macular degeneration at an increased rate at a relatively young age (Arch Ophthalmol.1998;116:1646-51).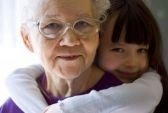 * The lifetime risk of developing late-stage macular degeneration is 50% for people who have a relative with macular degeneration vs 12% for people who's relatives do not have macular degeneration, i.e a four fold higher risk.
Family History and AMD
These statistics may be a bit alarming for many of you, including me. My husband's father has advanced wet macular degeneration as did many of my father-in-laws sisters and brothers.

Family history is one of the main risk factors for developing age related macular degeneration, which causes the loss of one's central vision.
Macular Degeneration Test
Genetic testing for medical conditions, such as breast cancer, has been around for several years. This type of testing is not for the general public, but rather it is limited to those who meet certain criteria. Even then some people may prefer not to know what their risk level is.

An interview with Dr Edward Paul, a low vision optometrist with a specialty in age-related macular degeneration with a Ph.D. in nutritional medicine explains more about the Macula Risk Test, who should get it and how it can benefit those who take it:

Genetic Testing for AMD by Dr. Edward Paul

Thanks so much for subscribing to Macular Degeneration News.





Leslie Degner, RN, BSN
Better Health for Better Vision
www.WebRN-MacularDegeneration.com