Dry Macular Degeneration Research
If a person were to look through all the clinical trial listings at the National Institute of Health website for macular degeneration, one would find many more studies for the treatment of wet macular degeneration compared to the treatment of dry macular degeneration.
This may surprise you since the vast majority, in fact almost 80-85%, of patients with macular degeneration have the dry form.
Dry Macular Degeneration Clinical Trials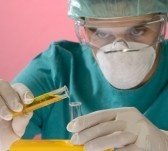 That is changing, thanks to ophthalmologists and researchers like Dr. Phil Rosenfeld. Dr. Rosenfeld is a board certified ophthalmologist who specializes in the treatment of retinal diseases like AMD and in dry and wet AMD research and genetics.

He has agreed to share his latest macular degeneration research with us in an interview.

Read what he has to say about:

1. Why there are so few clinical trials for dry AMD compared to wet AMD

2. Why this study is so important not only to you but for your children and grandchildren as well

3. Why a person should consider participating in a clinical trial

4. What physiological process leads to dry AMD and how that process can be blocked

5. How you can participate in this study

To read our complete interview with Dr. Rosenfeld click here:

Interview with Dr. Phil Rosenfeld



Thanks so much for subscribing to Macular Degeneration News.





Leslie Degner, RN, BSN
Better Health for Better Vision
www.WebRN-MacularDegeneration.com