Looking for a Book or Reading Magnifier?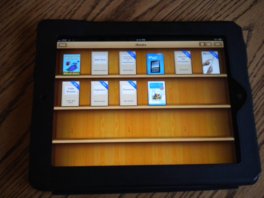 Many people with vision problems, such as macular degeneration, often find that reading normal size print becomes a challenge.

Large print books and reading magnifiers are great vision aids, but maybe your favorite author doesn't publish books in large print or maybe you get tired of constantly adjusting your book magnifier to get a clear focus.

If that's you, consider trying one of many e book readers - every book can become a large print book by simply pressing a button for a larger font. The most well known electronic book readers are Kindle, Barnes and Noble Nook and the Sony E Book Reader.

After purchasing an Apple iPad several months ago, let me tell you about some of my favorite features that perhaps may make this the best ebook reader.

1. Screen Size

The screen size is 9.7" - most of the others are 6-7" except for the Kindle DX which has the 9.7" screen. The more one needs to magnify the font, the more important the screen size becomes. Larger print words of course take up more room. More words can be viewed on one page with a larger screen size.

Touch Screen

The picture icons on the Apple ipad are large and in vivid colors. I've downloaded the iBooks app and the Kindle app by Amazon. I read from both applications. Amazon has a larger selection of books than Apple at this time.

Color Screen

Compare a color screen electronic reader to a black and white one - there is no question that the color screen is much more appealing. Children's book with vivid color pictures download wirelessly onto the Apple iPad. I've enjoying reading these e-books with my grandchildren.

To see some pictures I've taken that show off the above features and to learn more about the Apple iPad click here:

Apple iPad - the Best E Book Reader?



Thanks so much for subscribing to Macular Degeneration News.





Leslie Degner, RN, BSN
Better Health for Better Vision
www.WebRN-MacularDegeneration.com